Iniscrealtra Festival of Arts
1839 Water Colour Event.
In 1839, Richard B. Beechey created panoramic water-colour paintings of Lough Derg landscape aboard a cutter surveying the lake.
The Festial chartered the 'Spirit of Killaloe" as a floating studio for artists to paint from the same point of reference. I have painted the landscape of Lough Derg often but this was the first oppertunity I have had to paint the landscape from the lake. To see the land from another perspective was a treat. It was a really enjoyable and productive afternoon, the lake was calm, the weather mixed and the company fantastic. I painted two water-colour sketches. All the paintings were later auctioned to pay for the hire of the boat.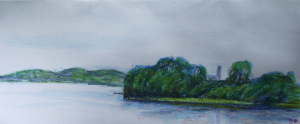 Holy Island 1.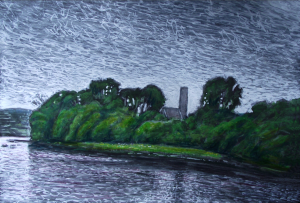 Holy Island 2.