Iniscealtra Festival of Arts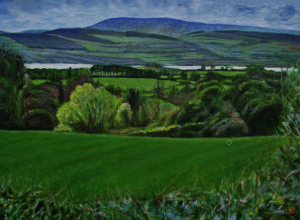 The East Clare Artist Exhibition opened on Sunday 27th of May. I painted two painting specifically for the Arts Festival. The painting shown here is of a view near where I live. It is of Moylussa, Sliabh Bernagh, County Clare.  Many of my paintings are of the landscape around beautiful Lough Derg.
The exhibition is in "Derg View Gallery", Mountshannon. It is open daily from 12-6pm and runs till the June the 4th.
The second painting " White-tailed Sea Eagles, Bushy Island, Mountshannon" can be viewed at the "Snug Bistro", Mountshannon.
"Moylussa, Sliabh Bernagh, view from Derrycon."